This is a WIP page! Track listing for the completionist in YOU!
(Also for one of the endings)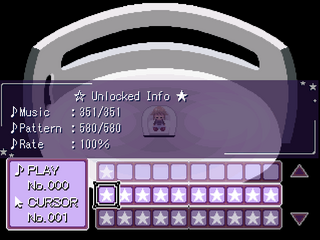 If you have the time and energy feel free to contribute and modify the list, especially since it will change with future game versions.
This is a list of all the music available for playback in the Music Room, accessible from Urotsuki's Computer.
Each track is initially locked, but after hearing it at least once in the dream world it will become unlocked and listenable.
If you unlock a certain amount of tracks, the 'Watch SRED' option will be selectable when you try to exit to PC. The term 'SRED' is short for 'Sound Room Ending'.
As of 0.105a version, you can access 'Old SR'(same as Music Room Track Listing) by selecting 'Enter Old SR Room' option.
Track list
Edit
There are 351 tracks and 580 patterns in total.
Unnumbered Tracks
Edit
Sometimes when new tracks are added in an update, they are not added to the music room's track listing. This section is for music in new areas that has not yet been added to the in-game music menu. As of ver.0.106a, there are two songs which play in-game but cannot be found in the music room.
| | | | |
| --- | --- | --- | --- |
| TRACK NAME | LOCATION/EVENT | LISTEN | NOTES |
| yumeorugo_arr2 | Wallpaper Album | | You can access Wallpaper Album after watching Ending #1. This music was used as default setting on the album. |
| surroundings_13_Cascade | Penguin On Hook | | It used to be listed on initial 0.104i version, however, it became unlisted as of 0.105 version. You can hear the music on Dream Beach. |
Unused Tracks
Edit
This section is for tracks that appeared in previous versions of the game that have since been removed or replaced.
| | | | |
| --- | --- | --- | --- |
| TRACK NAME | LOCATION/EVENT | LISTEN | NOTES |
| dndnstep_anon | Doll Factory | | |
| fuwafuwa-byzetsu | Factory Entrance | | |
| rnt_akarusugi | Clothes Shop | | |
| sound2a (slow) | Fantasy Library | | The Fantasy Library's version is slower than the original. |
| yumenikkig_uljp00106 | n/a | | This track is actually a recording of an SSTV broadcast. When played through an SSTV decoder, it's revealed to be an image of Urotsuki watching Kamen-san at work. |
| 光のオルゴール@アノン | Cake House | | |
There is another version of "Merrygo" with different pitch, however, it hasn't been put on the list.